Most businesses are now fond of using custom logo mats for their branding campaign. Logo mats are merely a low-cost way to add flare to your facility and increase its brand visibility. When perfectly curated, they will put you front and center in your customer's minds as soon as they walk through your front door.
However, a logo rug that slips and slides is not only unattractive but also hazardous. Rather than getting rid of your floor coverings, there are numerous things you can do to keep rugs from sliding. Below are some of the most common ones.
Rubber Waffle Rug Pads
You can choose to purchase rubber waffle rug pads online, or in the home improvement or home furnishings sections of large retailers. These pads are thin and mostly sold pre-cut for common area rug sizes. Luckily, they are easy to install, affordable, and help keep custom logo rugs in place on hard surface floors.
Unfortunately, they don't add much padding to the rug and lose their gripping quality quickly since dust and dirt accumulate in the open grid pattern. They have the potential to even damage some floor finishes.
Felt Pads
You can find felt pads in a variety of thicknesses and are usually cut and sized to order. Felt pads add the most cushion to custom logo mats and help prevent wear to the fibers. But they don't offer a great deal of protection from slipping unless the rug is quite large. Top-of-the-line pads blend felt with a natural rubber backing fused to the felt with heat.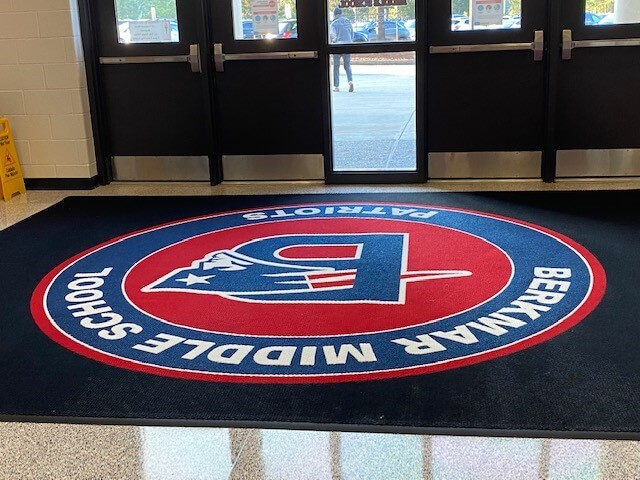 Felt pads are ideal options for hardwood floors. After all, they offer exceptional cushioning to the logo mats and the gripping quality of the rubber to prevent slippage. No wonder they are definitely worth purchasing.
Rubberized Shelf Liner
The same rubberized shelf liner used to keep your dishwasher and glasses in place can be relied upon to keep a logo rug from slipping. While similar to the more heavy-duty waffle rug pad, the liner is less expensive but much thinner. A drawback is that it usually comes in only 12-inch widths.
To create a larger pad, the shelf liner strips can be taped, sewn, or glued together.  Just as is the case with the waffle rug pad, care should be taken since the shelf line sometimes reacts with floor finishes and leaves permanent damage.
Rounding Up
While commercial floor mats from Ultimate Mats are made of the highest-quality materials, sometimes they might slide or slip out-of-place. To keep them from sliding, consider using a rubberized shelf liner, natural rubber pads, felt pads, gripper tape, or even double-sided carpet tape. Ensure you know how to use each one of them to stand a better chance of reaping maximum benefits. The good news is you can always enlist expert help to save yourself the hassle. That's precisely what you need to get the most from your custom logo mats without pushing yourself to the limit.